Festival Place offers cabaret or standard style seating options for events in the theatre.
If you are requesting more than one ticket over the phone or in person, and if you wish to be seated next to your companion(s), one individual in your group must make a request for multiple tickets. Requests made by multiple individuals will not guarantee seating as a group.
If you are using our online tickets website,it will pull up best avalable first, then there is an option to change seating locations. On the tickets site you will be able to select multiple seats at one time.
Both styles of seating allows patrons to purchase and bring snacks and beverages into the theatre purchased from our concession.
The Qualico Communities Cabaret Series is general admission and is held in the banquet rooms. The Qualico Patio Series is table seating (general admission) and is held either on the patio or in the theatre, depending on the weather.
Thanks to the generous support of the Children's Ability Fund, assistive hearing devices are now available to our patrons.
If you are unsure about the seating options or have special requirements, please consult the seating plans or call our ticket agent at 780-449-3378.
Cabaret seating
Most live music events at Festival Place feature cabaret seating. Since the majority of these shows are alcohol licenced events, there is restricted access for minors at these shows.
If you are renting the facility, there are three seating types that can be requested for cabaret seating events:
1. Table - 6 round tables, seating 6 guests each and 5 tables, seating 4 guests each.These 11 tables are placed directly in front of the stage. A candle and assorted snacks are placed on each linen-covered table. Note: From time to time there may be an 12th table.
2. Loge-There are 20 seats on each side of the main floor and the balcony. The main floor Loge A and B seats are accessible. 4 tickets are on hold for wheelchair access. Please call the boxoffice to inquire about availability. 
3. Theatre - The balance of the seats are conventional theatre seats and are available in the balcony and on the main floor.
Standard seating
If you are renting the facility, a standard seating arrangement offers theatre seating and box seats. Plays and children's performances are usually standard seating events. Patrons of all ages are welcome. There are two types of tickets that can be requested for standard seating performances:
1. Adult - Any person 13 years of age and older.
2. Child - Any person 12 years of age and younger. All children, regardless of age, require a ticket to the performances. The fire marshall requires that all individuals, including babies in arms, must have a ticket to performances.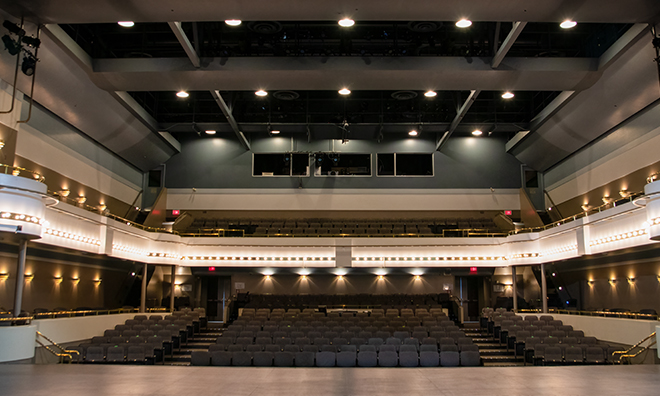 Where will you sit?