Technical specs for all areas
Stage performance area  
The stage playing depth from: 
front of stage to cyclorama is 37' 10"  
front of the stage to main drape is 7'  
from main curtain to cyclorama  is 29' 6"  
Proscenium width is 40'  
Proscenium height is 24' 7"  
Standard trim is 34' wide. This leaves approximately 10' wing space each side.  
Crossover is accomplished using the hall directly behind the stage. 
 
Orchestra pit
The orchestra pit is 9' 10" deep and can fit 20 musicians. Conductor must use a 34" riser to see the stage. If you aren't familiar with Festival Place, the Pit is covered to accommodate seating. To cover or uncover the Pit takes 5 technicians 2 hours to complete at a cost to the client.

 
House 
489 seat capacity with120 of these in the balcony. On the main floor 92 chairs are portable on the flat area nearest the stage. Accessible seating is available along the perimeter of the fixed theatre seats along with various seating options.
Stage  
Masking and soft goods  
 Main drape – eggplant cotton velour  
 4 black cotton velour borders 10' X 54'   
3 set of black cotton velour legs 28' x 10'
1 white muslin cyclorama 28' X 50'  
 1 black sharkstooth scrim 28' X 54'  
 2 full stage black velour travelers (mid-stage and up stage);  used as legs when open.  
 
Fly system   
T-track, single purchase. Fly rail is SR at deck level  
Handline is stage set X ¾ inch Synthetic Rope. All hardware is Atlas Silk
30 lines at 8" centres  
Total Flying height 54' 10" 
Pipes are 54' long 
 
The Hat Catering reserves the right to be the exclusive provider of catering services for all events within our facility. Contact Mike at 780-224-2765 to arrange for catering as part of your room rental (vegan, vegetarian and gluten-friendly options available). For the protection of our guests, the Hat Catering will be the sole supplier of all food and beverage services.
Please note: We will follow current Alberta Health guidelines for maximum capacity numbers. 
Seating options
Cabaret style and standard seating options are available in the Festival Place theatre.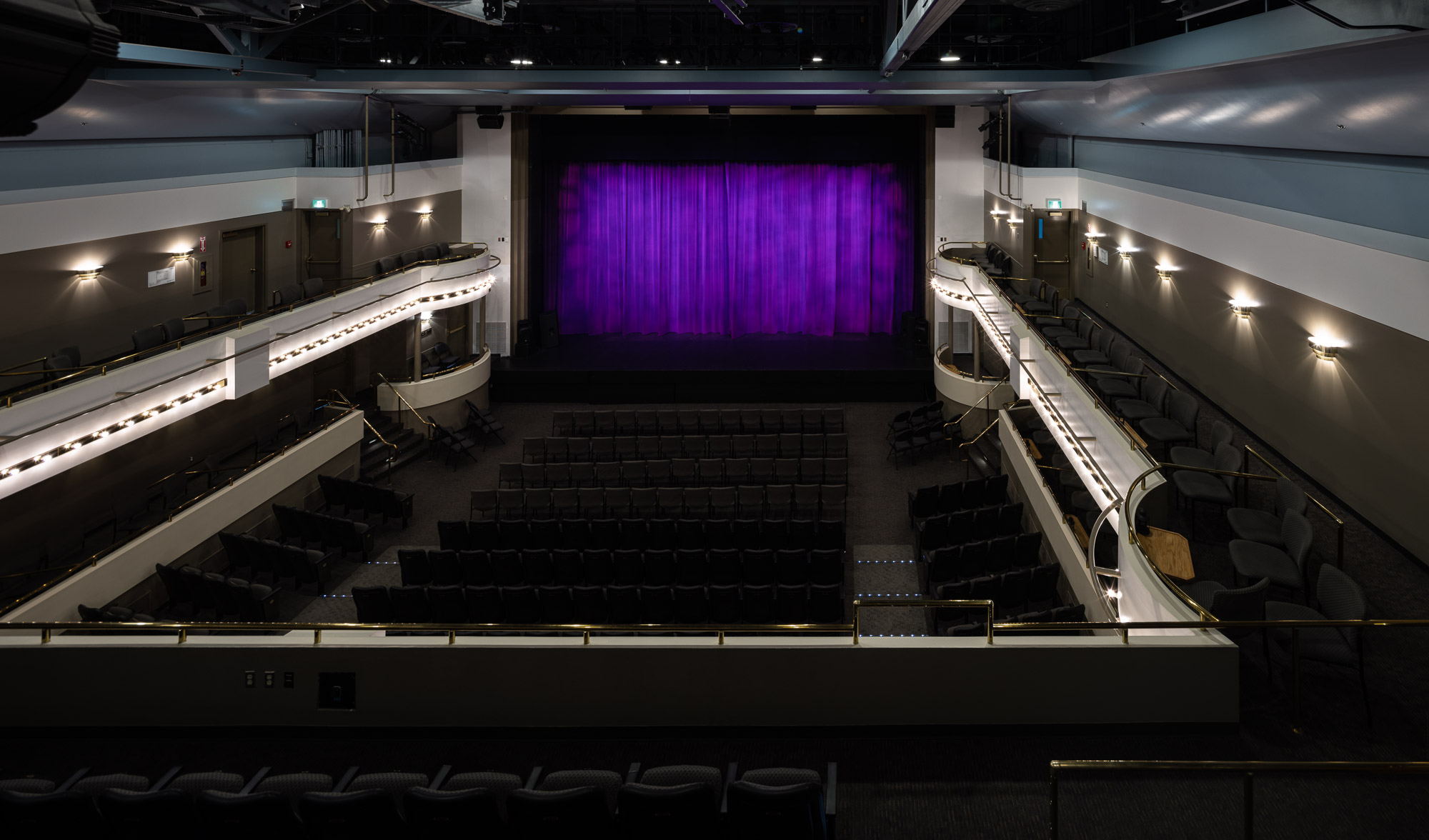 Book your next event with us
To book or if you have questions, contact Brandy Morrison, Event and Promotions, at 780-410-8567 or brandy.morrison@strathcona.ca