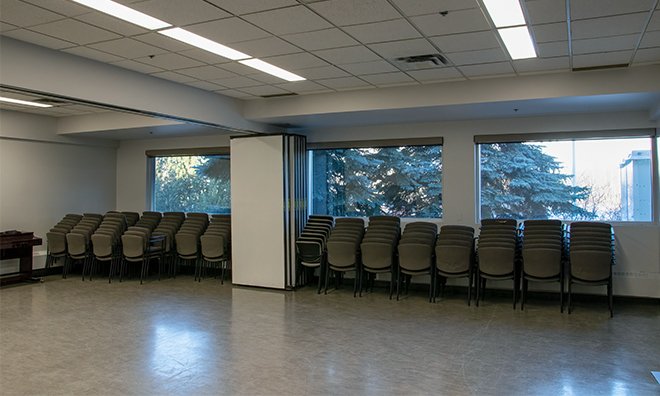 Perfect for groups of up to 50 guests in theatre-style configuration or banquet rounds of eight.
Combined, the studios are 1,019 square feet and feature large windows with lots of light and tiled floor. 
Please note: We will follow current Alberta Health guidelines for maximum capacity numbers.
For meetings
Combined rate is $27.00 per hour

Rate per room is $19.95 per hour
*Base rates, additional fees may apply 
For banquets 
Full day (9 a.m. to 2 a.m.): $335.00

Full day with ceremony on patio or Sherwood Park/Ardrossan room: $652.03
*Base rates, additional fees may apply
Additional details
The DJ cannot play past 1 a.m.
Rentals are until 2 a.m. unless otherwise arranged.
Complete set up of the event is included in the above rates.
The client is responsible for supplying, setting up and tearing down decorations at the end of the evening.
All food and beverages are supplied by the in-house caterer The Hat Catering.
The Hat Catering reserves the right to be the exclusive provider of catering services for all events within our facility. For the protection of our guests, the Hat Catering will be the sole supplier of all food and beverage services.  
Contact Mike at 780-224-2765 to arrange for catering as part of your room rental (vegan, vegetarian and gluten-friendly options available).
Book your next event with us
To book or if you have questions, contact Brandy Morrison, Event and Promotions, at 780-410-8567 or brandy.morrison@strathcona.ca